Return to Headlines
Local students win spots in state thespian competition; EHS, GHS sweep district contest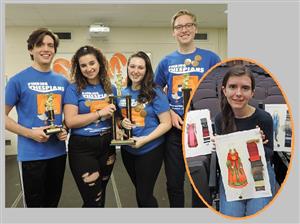 Five local high school students have earned spots in the statewide Florida Thespians competition after winning top honors at the recent district competition.
Four Eastside High School students, including James Donnelly, Camille Eyman, Graham Louis and Carly Rubin, will perform at the STRAZ Center in Tampa after being selected as the District Representative for performance at the District 12 Thespian Competition. That means their entry was selected as the best performance piece among the high schools that competed. The four also won a Critic's Choice Award in the Small Group Musical category.
Eastside High drama teacher Tammy Meyers says the students work hard on their craft.
"In addition to their school work and the time they spend on our shows, they're putting in something like 20 to 40 hours of rehearsal on their individual pieces, including after school and on weekends," she said. "We have high expectations for the kids in our program, and they work really hard to rise to those expectations."
Gainesville High School student Sophia DeLeon was also named District Representative for the technical division and won the Critic's Choice Award in the Costume Design category. She will be presenting her designs at the state conference in Tampa, which will be held in late March.
This will be the second time DeLeon will be sharing her designs with judges at the statewide competition.
"I watched her present, justify and articulate her choices for her design," said GHS drama teacher Sarah Shephard. "I look back at how much she has grown as a person and an artist and see the amazing young adult she has become."
The wins mean Eastside and GHS swept both the performance and technical divisions at the districtwide competition, which drew about 20 schools from North Central Florida. Overall, Eastside earned 14 Superior ratings, 12 Excellent ratings and two Good ratings, while GHS earned 17 Superior ratings, 20 Excellent ratings and 4 Good ratings. Buchholz High (16 Superior, 19 Excellent) and Santa Fe High (1 Superior, 8 Excellent) also had strong showings.
The list of individual and group award winners at the District 12 Thespian Competition is as follows:
Buchholz High School:
Critic's Choice, Make-up Design – Mykala Uman
Critic's Choice, Publicity/Advertising – Grace Lamerson
Honorable Mention Critic's Choice (Runner-up), Solo Musical – Cameron Varvel
Honorable Mention Critic's Choice, Pantomime – Zoe Enholm, Gavin Panpinto, Nicholas Hull, Olivia Floyd, and Katie Lowery
Honorable Mention Critic's Choice, Duet Acting – Katie Belanger and Maddie Smyth
One Act Awards:
All Star Cast for Performance: Will Buckholz
All Star Technical Execution: Carrie Cassidy
Eastside High School
Critic's Choice, Small Group Musical – Carly Rubin, Camille Eyman, Graham Louis, and James Donnelly
Critic's Choice, Duet Acting – Luke Bennett and Lincoln Weaver
Honorable Mention Critic's Choice, Large Group Musical – Camille Eyman and company
Honorable Mention Critic's Choice, Monologues – Ruth King
District Representative Performance–Carly Rubin, Camille Eyman, Graham Louis, and James Donnelly
Gainesville High School
One Act Awards:
All Star Performance – Robbie Cutter
All Star Performance for Tech – Ava Bender
All Star Performance – Michael Sims
All Star Performance – Leah Exlbert
Critic's Choice, Monologues – Jasmine Buzzella
Critic's Choice, Costume Design – Sophia DeLeon
Honorable Mention Critic's Choice, Make-up Design – Frances Dinsmore
Honorable Mention Critic's Choice, Solo Musical – Anela Tiu
District T-shirt Design, $100 award – Aviv Amdur
District Representative Technical --Sophia DeLeon
####