Return to Headlines
Middle school math teacher named Alachua County's Teacher of the Year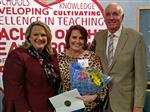 Laura Wykoff, a math teacher at Ft. Clarke Middle School, has been named Alachua County's 2019 Teacher of the Year.
The announcement was made at this year's Robert W. Hughes Alachua County Teacher of the Year event, which was organized by The Education Foundation for Alachua County Public Schools and attended by nearly 500 teachers, principals, parents, students and others. The primary sponsors for the event included Cox Communications, Florida Credit Union and SWI Photography.
Forty teachers chosen as the Teachers of the Year from their schools were recognized at the event, including Wykoff and two fellow finalists. They are Maria Zelaya, a Spanish teacher at Eastside High School, and Geoffery Bramlett, the media specialist at Alachua Elementary School. All forty teachers received a $500 check and a 'goody bag' filled with donations from local businesses and other organizations.
Wykoff has been teaching for eleven years, almost all of them at the middle school level. She currently teaches math to seventh- and eighth-graders, although she has also taught language arts and reading. During her career, Laura's worked with a wide range of students, including advanced, special needs and low income students. She's been recognized as a High Impact Teacher by the Florida Department of Education.
Wykoff was introduced by a former student, DeAndre Daniels, who credited her for helping him become academically successful and developing an outgoing personality.
During her remarks at the ceremony, Wykoff read excerpts of several letters from what she called her 'feel good file.' She said those letters, both comical and heartwarming, remind her of why she teaches, and she recommended that all the teachers in the room keep such a file.
The event's namesake and founder, former Superintendent Robert W. Hughes, announced Wykoff as the district's 2019 Teacher of the Year near the end of the ceremony.
"This definitely is a surprise," said Wykoff. "It's very special, because there are so many great teachers in this room. It's an honor to be chosen."
Wykoff will now go on to represent Alachua County in the Florida Teacher of the Year Program.
####