Return to Headlines
Rawlings students travel the world through music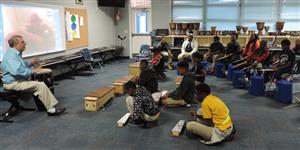 Students from the Rawlings Center for the Fine Arts are traveling the world this year—musically, that is.
Thanks to technology and an international network of musicians and music educators, music teacher Dr. Don DeVito has been taking his students on a journey to learn about music in other nations and to share the music of their community.
Through regular Skype sessions, the students are learning about Irish jigs, Spanish flamenco, the Japanese kodo, West Guinea drums and many other forms of music and dance from experts all over the globe. In turn the students share hip hop, stepping and other forms of musical expression from their own lives.
"It's a give and take process that's very culturally responsive-," said DeVito. "The students are the experts in their community, in their music and their culture. I want them to bring that into the classroom and teach it to other people internationally."
"It's good that we get to share what we do in our neighborhoods or house or dance teams," said 4th grader Serenity Nichols. "We're learning about other countries, about music that we've never heard of. It's so interesting."
"They can hear the type of music we have, and we can hear the type of music they have in their country," said classmate Arihanna Love.
Classmate Kamaria Mike thinks such knowledge would be useful for traveling.
"It's telling us what other countries are like," she said. "If you go there, you'll know about their music."
Devito says it's also good for enhancing learning in other subjects. Through music, the students are exploring the literature, geography, and history of other cultures. DeVito has the students keeping journals about their experiences and what they're learning. That includes comparing and contrasting the differing styles of music and dance, which helps boost their reading, writing skills and analytical skills.
"It's an approach that incorporates a lot of different, very valid and reliable ways of assessing what we're doing in music in a way that's engaging for the students, " said DeVito.
In an era when many people equate assessment with standardized testing, DeVito is interested in finding and sharing more innovative ways of gauging what students are learning through music education. In fact, he and three of his Rawlings colleagues, including Sharon Kuchinski, Rachel Walker and Christe McGann, have been invited to present their work at the International Symposium on Assessment in Music Education, which will be held at the University of Florida in March. A key element of their presentation will be Rawlings students performing for the hundreds of music educators who will be gathering from throughout the world.
Fourth-grader Tyrone Bellamy admits to being a little nervous about the Symposium performance, but says what he's learned at Rawlings will make that easier.
"We might be shy to play drums and do stuff in front of other people, but Mr. DeVito helps us get through it," he said.
"It's about developing confidence, which comes through knowledge," said DeVito. "They're learning the information, they're learning how to engage and communicate in a variety of ways so that they'll have the confidence to get up in front of an international audience."
DeVito and his colleagues are also submitting a paper about the program at Rawlings for publication after the Symposium. The formal title is "Culturally Responsive and Academic based Research Projects at Rawlings Elementary Center for Fine Arts." The paper outlines a number of the approaches to teaching and assessing music education being used at Rawlings, including the Skype exchanges, the incorporation with literacy education, and the use of student journals.
Part of the project will also involve a review of songs and rhythms the students use while play Hopscotch, jump rope and other games on the playground and a survey of parents to document the songs and activities that were popular when they were young.
"That creates a generational understanding of their community that's specific to the Rawlings community," said DeVito. "The parents can share information about how they grew up and the kids will document that and bring it into the classroom."
####