Return to Headlines
Local students qualify for 4th straight National Science Bowl Competition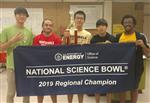 For the fourth straight year, a team from Buchholz High School has earned a spot in the prestigious National Science Bowl (NSB).
Students David Buffkin, Bryan Cao, Ryan Chen, Yared Tadesse and Andy Wu took first place in the North Central Florida Regional Science Bowl, beating out more than 30 other teams. It's the fourth straight regional win for a BHS team and the second for this particular group, which will now be among about 100 teams competing in the national finals in Washington DC in late April.
A news release from the Department of Energy, which sponsors the NSB, says participating students will "compete in a fast-paced question-and-answer format where they solve technical problems and answer questions on a range of science disciplines including biology, chemistry, Earth and space science, physics and math.
Marc Moody, a BHS science teacher and the team's coach, credits his students' commitment to preparation both in and out of school for their success. That includes reading multiple textbooks, scouring the internet for new information, studying previous questions and even preparing for the science bowl format.
"There are teams of bright students that like science, and that carries them into competition, but those teams lose," he said. "Then there are teams with students who obsessively and relentlessly pursue the accumulation of knowledge and skills to become the best of the best, and those are the teams that win."
The top 16 high school teams in the national finals will win $1000 for their schools' science departments. Last year the BHS team missed the top sixteen by one question out of hundreds they faced.
"It was frustrating, but they are all even better in their areas of expertise than they were last year," said Moody. "Competing with those teams that are just as good as you is tough, so having that experience means a lot."
The National Science Bowl was established nearly 30 years ago, and is one of the nation's largest and most prestigious science competitions. More than 14,000 students compete in the NSB each year.
####