Return to Headlines
Local students qualify for state SkillsUSA Competition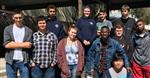 Ten local high school students have earned spots in the upcoming SkillsUSA Florida State Competition following top performances at the recent regional competitions.
Students from the Professional Academies Magnet @ Loften High School, Eastside High School and Gainesville High School competed against 140 students from middle and high schools from 21 Florida counties in the SkillsUSA Region 2 event held in Ocala. They brought home five first place, three third place and two fourth place awards, which means they'll be heading for the state competition in Pensacola in early April.
This is the first year that Eastside and Gainesville High sent students to the competition, at which students from PAM@Loften have often achieved success.
"We are thrilled that more schools in our district are now participating in SkillsUSA," said Shannon Ritter, a program specialist with the district's Office of Career Technology Education. "Of course we continue to be extremely proud of the Professional Academies Magnet students and teachers for leading the way."
According to its website, SkillsUSA is a national organization for secondary and post-secondary students "who are preparing for careers in trade, technical and skilled service occupations, including health occupations, and for further education." Besides competitions, the organization also offers a wide range of programs and services aimed at helping students develop and practice workplace and technical skills.
The local students competed in a range of categories, including culinary arts, firefighting and photography. Some of the competitions also focused on more general skills, including job interviews, customer service and public speaking.
The students who have qualified for the statewide SkillsUSA competition include:
Wesley Hill, Eastside High School: First place, Culinary Arts
Kieran Poole, PAM@Loften High School: First place, Firefighting
Raymond Shiver, PAM@Loften High School: First place, Customer Service
Lorenzo Johnson, PAM@Loften High School: First place, Job Interview
Gabriella Whisler, Gainesville High School: First place, Photography
Derrick Williams, PAM@Loften High School: Third place, Customer Service
Earl Faraon, PAM@Loften High School: Third place, Prepared Speech
Kenny Weston, PAM@Loften High School: Third place, Firefighting
Jacob Upshaw, PAM@Loften High School; Fourth place, Extemporaneous Speaking
Zachary Cooke, PAM@Loften High School; Fourth place, Job Interview
####