Return to Headlines
Newberry High School Academy of Criminal Justice wins fourth straight state championship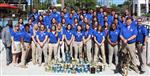 Newberry High School Academy scooped up 42 team and individual awards at the Florida Public Service Association (FSPA) State Leadership Conference, including the school's fourth straight state championship.
Forty-eight students from the NHS Academy of Criminal Justice attended the recent conference, which brings together young people from throughout the state who are preparing for careers in such areas as law, fire, security and public safety.
The school won the state championship this year by 29 points, beating out 13 other schools to earn top honors. NHS students also brought home 11 first place awards and the Top Gun award for the best performance in Advanced Firearms.
Six NHS seniors won $1000 scholarships at the conference, including Alyssa Massey, Landon Boucher, Chloe Brown, Kelley Shaver, Seniya Allen, Keely Smith. Massey, Boucher and Smith were also recognized for participating in FSPA for four years.
Academy of Criminal Justice award winners are:
First Place
Advanced Firearms-Team Event
Criminal Justice Exam-Katie Oxer
Criminal Incident-Team Event
Marketing Video-Team Event
Marketing Poster-Keely Smith
Miss Public Service-Alyssa Massey
Prepared Speaking-Devinn Martin
Novice Firearms-Micah Page
Traffic Crash Report-Jonas May
Fingerprinting-Katie Oxer
Criminal Justice Brain Bowl–Team Event
Landon Boucher
Second Place
Traffic Crash Report-Landon Boucher
Mr. Public Service-Landon Boucher
Novice Firearms–Kendall McGlashan
Criminal Incident-Team Event
Advanced Firearms-Team Event
Emergency Go Kit-Solana Ortiz
Third Place
Parliamentary Procedures-Team Event
Scrapbook–Team Event
Marketing Poster–Zialee Crudup
Community Service Project-Team Event
Novice Firearms–Liam Ettinger
Male Obstacle Course–Caden Massey
Job Seeking Skills–Chloe Brown
Bulletin Board–Kaitlyn Rucks
Extemporaneous Opening Statement–Micah Page
Extemporaneous Speaking–Chloe Brown
Fourth Place
Fingerprinting–Solana Ortiz
Female Obstacle Course–Amalia Zayas
Novice Firearms–Jefferson Diuguid
Felony Traffic Stops–Team Event
Team Dynamics–Team Event
Traffic Crash Report–Micah Page
Job Seeking Skills–Alyssa Massey
Fifth Place
Ideal Prison–Team Event
Forensics–Team Event
Novice Firearms–Hannah Roland
Team Dynamics–Team Event
Female Obstacle Course-Sarah Miller
Male Obstacle Course–Lee Zilcosky
Extemporaneous Opening Statement–Zialee Crudup
Marketing Poster–Faith Rodgers
####