Return to Headlines
Local students earn top honors in state science fair; two now qualified for international competition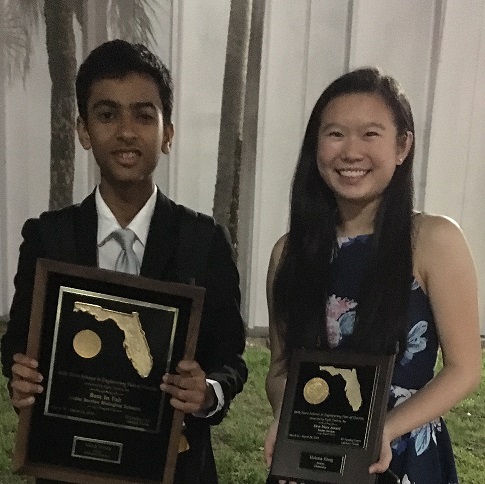 Two Alachua County Public Schools students came away with the highest awards available at the State Science and Engineering Fair, one for the junior (middle school) and one for the senior (high school) division of the competition.
Buchholz High School junior Helena Jiang won a Ying Scholars Grand Award, which is the highest award presented at the competition, for her project 'Novel Colorimetric Sensors for Detecting Chemicals in Vapor, Liquid and Solid Phases.' Lincoln Middle School eighth-grader Akash Verma was also named a Ying Scholar for his project entitled 'A Novel Study to Evaluate the Possible Effects of RF Radiation on Human Brain Waves and Testing Innovate Strategies.
As a Ying Scholar in the high school division, Jiang has qualified for an all-expenses-paid trip to Phoenix, Arizona in mid-May, where she will represent Florida in the prestigious Intel International Science and Engineering Fair. (Middle school students are not eligible to participate in the international competition.)
Also representing Florida and Alachua County Public Schools at that event will be Brindha Rathinasabapathi, who qualified with the top score at the regional Science and Engineering Fair in February. This will be her third trip to the international contest.
A total of 23 Alachua County Public School students brought home awards from the state fair, some of which include scholarships and cash prizes. Two middle school students, including Verma and Oak View Middle School eighth-grader David Cagle, also earned nominations to the Broadcom MASTERS program, a national middle school STEM competition.
The local award winners include:
Junior Division
Akash Verma: Junior Section, Division Grand Award Winner and First Place in Biomedical & Health Sciences, $500 Dr. Nelson Ying Scholar Grand Award, Broadcom MASTERS Nomination
David Cagle: Junior Section, 2nd Place in Behavioral & Social Sciences, Broadcom MASTERS Nomination
Emlyn Arner: Junior Section, 4th Place in Animal Sciences
Eric Hoffman: Junior Section, 4th Place in Chemistry
Matthew Settles: Junior Section, 4th Place in Chemistry
Elizabeth Nowicki: Junior Section, Recognition Award in Earth & Environmental Sciences
Carlos Rinaldi-Rivera: Junior Section, 4th Place in Engineering
Angela Gao: Junior Section, 4th Place in Environmental Engineering
Lucy Stanton: Junior Section, 4th Place in Environmental Engineering
Ahan Mishra: Junior Section, 4th Place in Intelligent Machines, Robotics, & Systems Software, $100 Cash Award for the Lemelson Early Inventor Prize
Vicky Jung: Junior Section, 4th Place in Mathematics & Computational Sciences
Zoey Evans: Junior Section, 4th Place in Microbiology
Josie Kirwan: Junior Section, Recognition Award in Physics & Astronomy
Ethan Wu: Junior Section, $50 Cash Award for FFFS Incentive Award
Senior Division
Helena Jiang: Senior Section, Division Grand Award Winner and 1st Place in Chemistry, $1000 Dr. Nelson Ying Scholars Grand Award, All expenses paid trip to Intel ISEF, Nomination for $8,000 four-year scholarship to New College of Florida
Anjana Balachandar: Senior Section, 3rd Place in Physics & Astronomy
Janani Kumaran: Senior Section, 4th Place in Animal Sciences, $100 Cash Award for Florida Entomological Society Award
Himanshi Verma: Senior Section, 4th Place in Biomedical & Health Sciences
Brindha Rathinasabapathi: Senior Section, 4th Place in Cellular/Molecular Biology & Biochemistry, Wilkes Honors College Science Merit Award from FAU University ($3,500 Scholarship Award, renewable each year)
Ani Veltcheva: Senior Section, Recognition Award in Earth & Environmental Sciences, NASA Earth System Science Award, American Meteorological Society Award
Jad Helmy: Senior Section, 4th Place in Intelligent Machines, Robotics, & Systems Software
Aditi Shukla: Senior Section, Recognition Award in Mathematics & Computational Sciences
Navya Tripathi: Senior Section, Brevard County Award ($20 Gift Card)
####