Return to Headlines
Buchholz High recognized with top honors at FBLA State Leadership Conference in Orlando
Gainesville, Florida, March 25, 2019—More than 4,300 of Florida's best and brightest high and middle school students traveled to Orlando to Leave Their Mark as they showcased their talents as future business leaders and vied for the opportunity to attend Nationals this summer in San Antonio, Texas.
Florida Future Business Leaders of America-Phi Beta Lambda (FBLA-PBL), held its FBLA State Leadership Conference in Orlando on March 22nd to March 24th. Participants from across the state of Florida including sixty-three members from the Academy of Finance at Buchholz High School attended this exciting conference to enhance their business skills, expand their networks, and participate in more than 50 business and business-related competitive events.
Fifteen students from Buchholz High Schools Academy of Finance in Gainesville, Florida received recognition at the FBLA Awards of Excellence Program on March 24th . First Place winners were Kelly Wang for Accounting I, Ben Gao for Business Calculations, William Liu for Economics and Justin Kim for Securities and Investments. Second Place winners included Theo Jiang for Accounting I, Daniel Chen for Agribusiness, and Samantha Santalices for Organizational Leadership. Third place finishers included Zach Hilman for Coding and Programming, and Devika Kumar for Introduction to Business Cmmunication. Minh Huynh finished 4th place for Advertising, Jack Hudson for Computer Applications, Jialin Zhao for Graphic Design as well as Xiya Zhou for Introduction to Business Procedures. Fifth place finishers were Jae Mercer for Healthcare Administration and Erick Jiang for Spreadsheet Applications. William Liu and Justin Kim not only won trophies, but also $250 each. Samantha Santelices was also awarded a trophy and $150.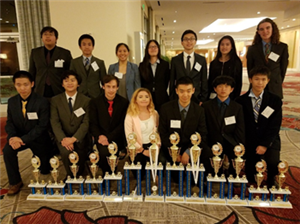 "It is great to take students to the state level of FBLA to compete and to have fifteen students place is so exciting," said Michele Brothers, Director of the Academy of Finance and FBLA Advisor. "I am very proud of their accomplishments."
In addition to the competitions, students immersed themselves in educational workshops and attended a general session with keynote speaker Dr. Davis Sampson.
Award Winners
Front row: Theo Jiang, Minh Huynh, Zach Hilman, Jae Mercer, William Liu, Justin Kim, Erick Jiang
Back row: Daniel Chen, Xing Zhou, Samantha Santelices, Kelly Wang, Ben Gao, Jialin Zhao, and Jack Hudson.
Missing – Devika Kumar.