Return to Headlines
Buchholz High student wins international geography championship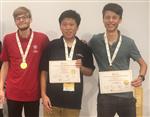 Buchholz High School sophomore Albert Zhang is the new champion of the prestigious 2019 International Geography Olympiad (iGEO), beating out more than 160 of the world's top geography students to win the first place medal.
The Olympiad, which was held in Hong Kong last week, drew teams from 43 nations. With his top score, Zhang led the U.S. team to an overall 2nd place finish, its highest finish ever. His three teammates earned one silver medal and two bronze medals.
Zhang said he was surprised when he was called up during the awards ceremony as the competition's winner.
"I never felt like I aced any particular part of the competition, and I often thought that the other members of Team USA came up with smarter and more creative answers than mine," he said. "At the award ceremony, when two of my teammates received bronze medals, the two of us that remained were absolutely terrified; we thought that we weren't going to get a medal at all."
The international competition consisted of three elements. Those elements included a written exam, a multi-media exam that used photos, videos and audio input to test critical thinking skills, and a fieldwork exam. That trip required competitors to travel into the host city to collect data, then use the data to create maps and develop planning ideas.
Before traveling to Hong Kong, Zhang attended a short training camp with his U.S. teammates so they could get to know each other and practice fieldwork.
Zh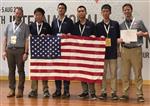 ang says the recent unrest in Hong Kong and a typhoon created some logistical issues, but he and his fellow competitors were still able to attend local cultural events, go on excursions and socialize with geography enthusiasts from around the globe. Participants even had the opportunity to develop and perform their own cultural presentations near the end of the event, which Zhang said was the most memorable part of the trip.
"It was an amazing experience," said Zhang. "Including the training camp, it was ten packed and exciting days that I will never forget."
Zhang earned his spot on the U.S. team after winning the United States Geography Olympiad in May.
He says he plans to compete for a spot on the national team again in 2020.
"I really enjoyed it and can't wait to maybe go to Istanbul for next year's competition," he said.
####