Return to Headlines
Students take advantage of new African-American studies courses in local high schools
"It's where everything started."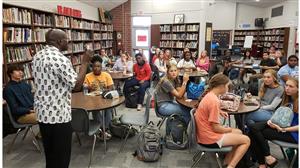 That's how senior Na'Tazeigha Jenkins sums up her interest in taking the new African history course offered this year at Santa Fe High School. It's a sentiment shared by classmate and fellow senior Rachel Martin.
"Everyone in the world came from Africa as a beginning, and I think it's important that we learn where we came from," she said.
More than 160 students are taking advantage of the African/African-American history courses now available in every Alachua County high school. The courses were previously offered at Eastside High School and the Professional Academies Magnet @ Loften High School.
Santa Fe High School principal Beth LeClear says the classes have drawn a diverse group of students, with more signing up as they hear good things from those already taking them.
"One of the things we try to teach at Santa Fe is that diversity is beautiful and there are so many ways we can grow from it," she said.
Tara Gabriel, who teaches the African history course at Santa Fe this semester and will be teaching an African-American history course next semester, has been supplementing the curriculum with presentations by guest speakers from University of Florida's Center for African Studies. During a recent class period the history and literature students heard from Dr. Charles Bwenge, a senior lecturer in the Department of Languages, Literatures and Cultures. Dr. Bwenge shared information about the more than 2000 languages spoken in Africa, how they evolved and how they relate to the continents culture and history.
Gabriel says she wants her students to understand the significance of Africa and its history and culture in their own lives.
"I hope they come out finding that history doesn't have to be Eurocentric, that we can find a history in this amazing continent that applies to our lives no matter our background," she said.
Senior Zakaria Wesley says she's already learned that Africa is much different than the place portrayed in the media.
"People only think of poor people and starving children, they hear all the negative things, unfortunate things," she said. "But people in Africa, they're actually able to do a plethora of things we're able to do, they have opportunities, they're people just like us."
#####