Return to Headlines
Local students earn national recognition for academic achievement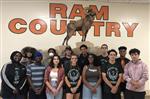 Fifty-six Alachua County Public School high school students have been named College Board National Scholars for their outstanding performance on rigorous national exams and their classwork. That's a significant increase over the 28 local students recognized in 2021.
The students were recently notified that they'd earned Scholar status through the College Board's African American, Hispanic, Indigenous and Rural/Small Town Recognition programs. Those programs recognize academic excellence among students from under-represented groups.
Besides performing well in their school work, the students earned top scores on either the PSAT/NMSQT or PSAT 10 college entrance exams or rigorous Advanced Placement exams.
The Scholar status is highly regarded by many colleges and universities, which use the designation to identify high-achieving students from under-represented populations.
This year's Scholars are enrolled at Buchholz, Eastside, Gainesville, Newberry and Santa Fe high schools.
"It's exciting to have so many of these outstanding scholars from our district," said Superintendent Shane Andrew. "They have achieved something very impressive, and we're proud to have them representing our schools and community."
The Scholars for 2022/23 are:
Buchholz High School:
National African American Recognition Award: Arabella Ahmad, Edward Churuba, Kelisha Andre, Nia Jobson, Zachariah Taylor; National Hispanic Recognition Award: Alden Vega, Amelia Rufino, Eduardo Fuzy, Eric Kallas, Lex Ettinger, Madeline Wong, Naomi De Oliveira, Paola Monge, Samuel Chapman, Serengeti Alvarez, Xavier Ayala-Vermont
Eastside High School:
National African American Recognition Award: Abigail Dagins, Awab El Ghissassi, Brooklyn Thomas, Chris Okorochukwu, Jibril Bachu, John Oduntan, Laila Jones, Rowa Nawari, Samantha Jones; National Hispanic Recognition Award: Augustus Paluzzi, Catianna Andino, Elena Frenock, Matthew Martin, Nicholas Reyes, Thomas Pereira; National Indigenous Award: Daniel Zou
Gainesville High School:
National African American Recognition Award: Amanda Baez, Joshua Morison, Rianna Griffith, Shanaya Brown; National Hispanic Recognition Award: Alessandra Deleon, Alexander Hudleston, Amanda Baez, Antonio Baez, Camila Galvao, Carli Sarmiento, Diego Bruna, Francisca Riveros, Maximiliano Probert, Miranda Bustamante, Niccolo Corvetto, Patrick Nowels
Newberry High School:
National Rural and Small Town Award: Emma Meade, Macy Vance, Riley Copti, Sarah Watson
Santa Fe High School:
National Rural and Small Town Award: Nathan Anderson, Nick Athern, Evan Cornell, Kayla Hill, Tyler Sutton
####