Return to Headlines
Thirty-five ACPS students named National Merit semi-finalists; three earn highest possible score.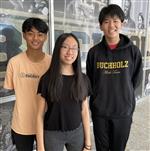 Thirty-five Alachua County Public School students have earned prestigious semi-finalists status in the 2024 National Merit Scholarship program, according to a list released this week by the College Board, which administers the program. That status places them among the top 1% of high school seniors nationwide.
"I congratulate the students who have been named semi-finalists," said Superintendent Shane Andrew. "They've made their schools, their teachers and certainly their families very proud."
To qualify, students must earn among the nation's highest scores on the Preliminary SAT/National Merit Scholarship Qualifying Test (PSAT/NMSQT). About 1.5 million students take the exam each year and about 16,000 are named semi-finalists.
Three ACPS students, Megan Chen, Daniel Wang and Nathan Wei from Buchholz High School, earned the highest possible selection index score, or total score, on the exam.
All of the semi-finalists now have the opportunity to earn finalist status. In addition to earning high scores on the SAT, they will have to submit applications highlighting their other academic achievements, awards and honors earned, leadership activities, teacher recommendations and an essay.
Earning semi-finalist status has long been recognized as a strong indicator of academic talent.
Buchholz High School has 19 semi-finalists in this year's program. Eastside High and Gainesville High each have 8.
Students will learn in early spring of 2024 if they have reached finalist status. Finalists are eligible for thousands of dollars in scholarships provided by businesses, colleges and universities and other organizations.
The ACPS semi-finalists are:
Buchholz High School: Megan Chen; Richard Feng; Nolan Gao; William Guan; Noah Hunter; Max Kaplan; Melissa Li; Hailey Lin; Edison Loftus; Kelsey Morey; Peter Neubert; Sarah Rodkin; Parsa Tehranipoor; Daniel Wang; Laurie Wang; Nathan Wei; Billy Yang; Kailyn Zhai; Emmanuel Zheng;
Eastside High School: Madeleine Gurka, Daniel Huang, Shravya Mandava, August McDaniel, Armando Rodriguez, Isaac Savin, Noah Siegel, Rachel Xu
Gainesville High School: Cadien Archer, Maheer Bansari, Peter Blay, Kyle Choe, Kathleen Ferrer, Ellee Guin, Carl Jury, Katelinn Kochtan
####