Loften Award Winner 2020-21 - Jennifer Bennett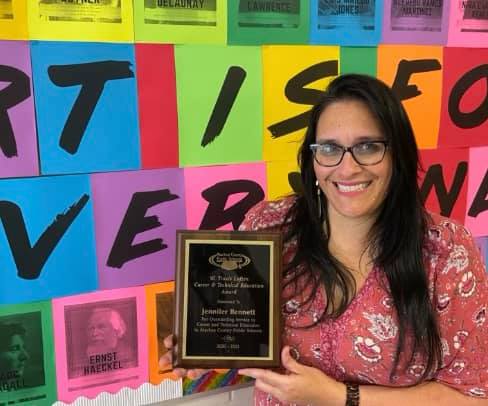 T
he 2020-21 W. Travis Loften Award is awarded to Jennifer Bennett for exceptional leadership, enthusiasm and professionalism.
This award is given to a teacher who consistently goes beyond the call of duty in providing educational opportunities to CTE students.
We were pleased to recognize Ms. Bennett for a host of accomplishments. She hosts a fantastic art show annually at Loften High School. She collaborates with Santa Fe to offer the Digital Media Institute to students district-wide who want to earn college credit in graphic design. This year, she had a student place nationally in the Certiport Adobe competition, and she has students make it to the national level of Skills USA competitions regularly.
Ms. Bennett consistently writes grants to bring different opportunities to students, and weaves real world experiences into her classroom. There are currently plans to create a t-shirt printing press for students in the upcoming year! She is so remarkable that she was also the Teacher of the Year representative for Loften High School for 20-21.
The CTE department thanks you for giving your best to the students of Alachua County, Ms. Jennifer Bennett!