Academy of Fire and Emergency Medical Services
Students attending this academy are introduced to the healthcare and public safety fields. The cadets are trained as Emergency Medical Responders and Firefighters. The curriculum covers basic firefighting skills in Firefighting 1, 2 and 3. The Health Science courses cover the basic medical skills such as CPR, patient assessment and first aid. During their senior year, students have the opportunity to dual enroll in Santa Fe Colleges' EMT (Emergency Medical Technician) program.

The summer following their senior year, students will finish earning their Florida State Firefighter I certification by completing the final live burn scenarios and be eligible for state certification. This is done during the summer following their senior year because students must be 18 years old to participate in the live burn.

GENERAL MAGNET QUESTIONS? Call 352-955-7622

2023-2024 ACPS Magnet Information

Our 2023 Open House is in January - exact date TBD @ 6:30pm at our school:

3000 E University Ave, Gainesville, FL 32641

Application Requirements

Please visit the CTE Application Website for dates and other important information.
The minimum requirement is a 2.5 GPA, no more than 10 unexcused absences, discipline including current and prior school year: no "major" referrals and no more than 4 out-of-school suspension days.

Essay Required

: All high school applicants will answer one short answer response prompt (300 words or less): "Describe in detail something you are passionate about or something that motivates you."

---
Academy of Fire and EMS
What Will I Learn?

Students are trained as Emergency Medical Responders (including CPR certification), Florida State Firefighter I, and also have the opportunity to dual enroll at Santa Fe College in the Emergency Medical Technician (EMT) Program.




CTE Curriculum Tracts

Each CTE Tract consists of three elective courses. The Academy of Fire & EMS offers two CTE tracts. Completion of both tracts is required with few exceptions. Both tracts have potential for earning industry certifications if students prove proficiency.




EMR (Emergency Medical Responder)

Health science 1 & 2 are prerequisites for EMR

Health Science 1 - Anatomy & Physiology

Health Science 2 - Health Foundations

Emergency Medical Responder




FIRE (State of Florida Firefighter 1)

Firefighting 1

Firefighting 2

Firefighting 3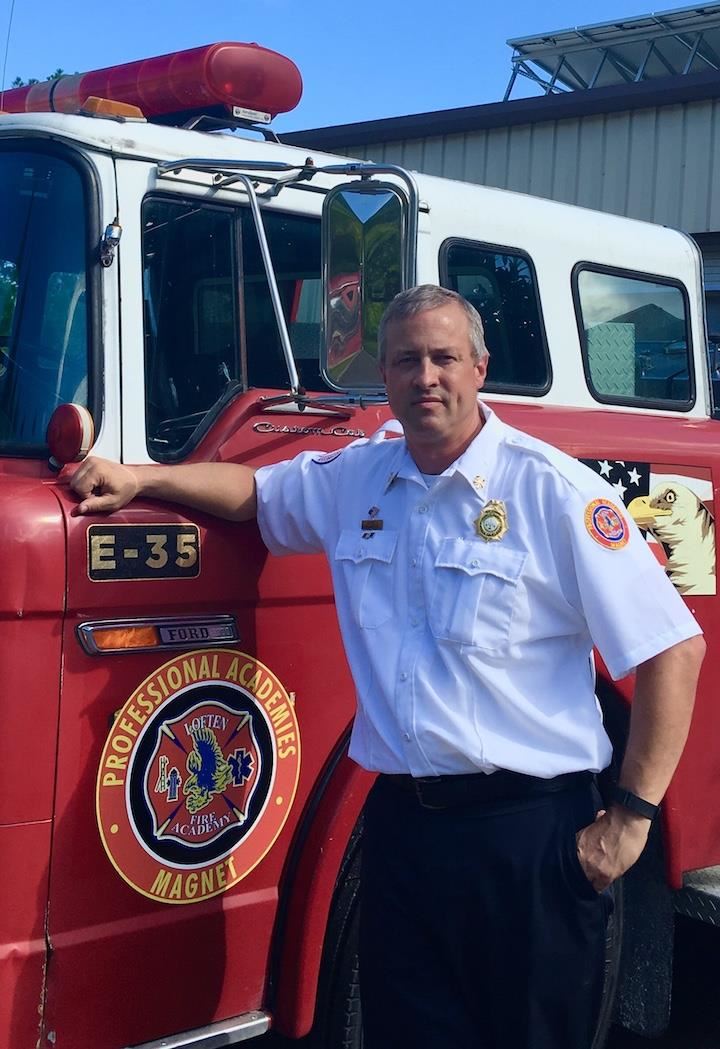 Phone: 352-955-6839
Email:
Degrees and Certifications:
B.S. Education (Fire Science/Industrial Safety) Florida Firefighter Minimum Standards Emergency Medical Technician Fire Instructor III CPR Instructor Executive Fire Officer, National Fire Academy
Chief Mark Smith

Email smithmv@gm.sbac.edu

Chief Smith came to the Academy of Fire & EMS in 2016. Prior to that he spent 11 years as the Fire Marshal for Alachua County Fire Rescue, 5 years with Gainesville Fire Rescue and 6 years with the University of Florida. In his spare time, Chief Smith still serves in a part-time capacity as a Firefighter/EMT with both High Springs Fire Department and Newberry Fire Department. He started his career in the fire service over 30 years ago in Maryland outside Washington D.C. where he lived in a fire station as a college student at the University of Maryland.

Chief Smith is married with three children who all went through the Alachua County Public School system. Two graduated from Eastside IB and currently attend the University of Florida and his youngest is a senior at Buchholz High School.

Chief Smith expects his students to be engaged in learning the tools of the trade in fire and EMS because one day someone's life may depend on them.
News
SkillsUSA is the student career technical service organization (CTSO) for the Academy of Fire & Emergency Medical Services. Click the link above for more information.
Honor Guard Ceremony for 9/11