Academy of Robotics and Engineering
The Academy of Robotics and Engineering will provide a specialized four-year program designed to prepare students for higher education and become certified in industry leading to a rewarding career in Automation, mass production/building, or Engineering Technologies.

Years 1 and 2

Applied Robotics - This program provides students with a foundation of knowledge and technically oriented experiences in the study of the principles and applications of robotics engineering and its effect upon our lives. The content and activities will also include the study of business person, safety, and leadership skills. This program focuses on transferable skills and stresses the understanding and demonstration of the science and numerical knowledge, tools for technology, machines, instruments, materials, processes, and systems related to robotics.

Years 3 and 4

Advanced Production of Technology - This program offers a sequence of courses that provides the technical knowledge and skills needed to prepare students for further education and careers in manufacturing career cluster. It provides technical skill proficiency and includes competency-based applied learning that contributes to the academic knowledge, higher-order reasoning and problem-solving skills. It also includes work attitudes, general employability skills, technical skills, skills specific to the occupation, and knowledge of all aspects of the manufacturing career cluster. This program offers a broad foundation of knowledge and skills to prepare students for employment in Automation and Production positions.

Check out the "News" link on the right for event dates this year.
Academy Instructor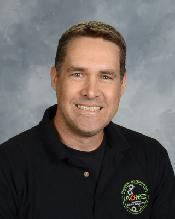 Phone:
Email:
Degrees and Certifications:
Mr.

Luigi DiFranco

Mr. Luigi DiFranco is the director of the Academy of Robotics & Engineering. He has a varied career background.

He is currently in his sixth year as an instructor at the Professional Academies Magnet, having previously taught 7th grade Reading and Language Arts at Kanapaha Middle School for two years, and as a teaching assistant and then adjunct professor of Graphic Design at Santa Fe College. He is the mathematics department chair, and he has a B.A. in Mathematics Education from Saint Leos University, as well as an A.S. in Graphic Design, and an A.A. in Engineering from Santa Fe College.

Before becoming a teacher, he worked in various manufacturing sectors, as a certified welder at an aircraft equipment manufacturer; as a welder and sheet metal fabricator at a HVAC manufacturer; as a residential builder, designing and building custom homes; as a manager at a high volume food manufacturer and distributor; and as a website designer and programmer for a nonprofit accounting association.

He holds multiple certifications and he continually strives to expand his knowledge of the engineering and manufacturing industries.